There's nothing simpler than giving a gift from our hotel to your loved ones, friends, or business partners. Give a present to those you care about, and choose from our wide selection of gift vouchers.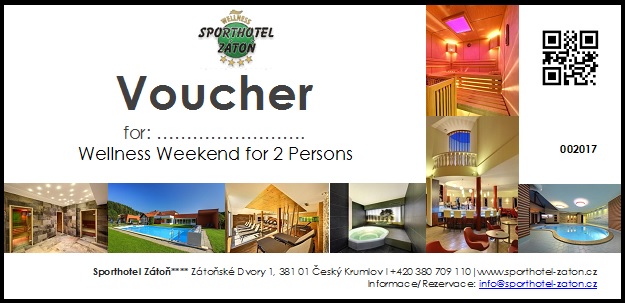 Our gift vouchers:
You can print it out right from home, no need to wait for the post
We'll deliver it to you for free (post or e-mail)
The vouchers are valid for 2 years from date of issue
We'll be glad to help you make a selection – daily from 8 am to 9 pm.
A wide selection:
Gift vouchers for any amount
Gift vouchers for hotel stays
Gift vouchers for our restaurant
Gift vouchers for our beauty salon
Don't be caught by surprise any more – waiting until the last minute doesn't have to be a reason to panic! If you pay by credit card, we'll send you the voucher on any day, no later than 2 hours after you place your order. For us to fill your order on the same day, please confirm payment by no later than 7 pm.
In the contact form ("Write us"), please provide the following information:
Your name and contact information
The amount of the voucher
Text to include on the gift voucher (dedication or wish)
Method of delivery (e-mail in PDF for print / sent by post)
Simple, comfortable, and quick!